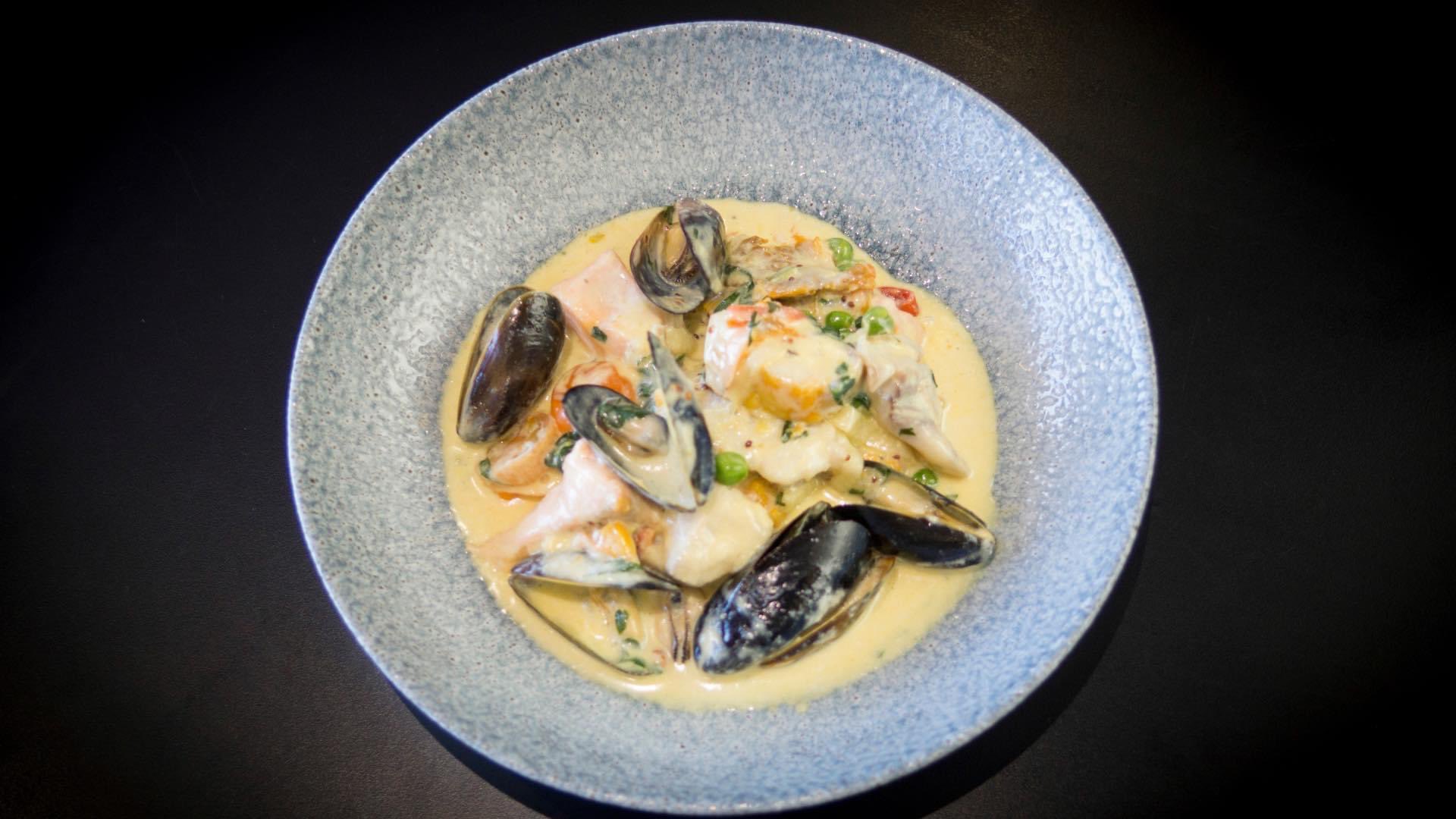 Head Chef Jack Mooney has shared a recipe to make our popular Seafood Chowder dish at home. If you are a fan of seafood and enjoy home cooking, this recipe is the perfect one for you to try at home
Find more dishes like this to try at our Seafood nights approaching on Friday 5th May and during the Rathlin Sound Maritime Festival on Friday 2nd June
View both the menus right here
Ingredients
150g cleaned mussels.
1 salmon fillet
1 cod fillet
1 smoked haddock fillet
100g king prawns
50g chopped leeks
50g scallions
50g cherry tomatoes
50g samphire
50g chopped chives
50g chopped dill
1 large glass of white wine
500ml double cream
1 bay leaf
2 star anise
2 crushed garlic cloves
1 finely sliced shallot
1 tablespoon wholegrain mustard
Salt and white pepper to taste
The Method
– Sweat the shallot and garlic in a little olive oil and butter until soft, add the mussels and white wine,
the bay leaf, star anise, and boil until the mussels have all opened. The wine should have reduced by
approximately half at this stage.
– Strain the broth into a clean saucepan and remove the mussels, setting aside for later on.
Chop the fish fillets into large, even, chunks and add into the wine along with the king prawns and
double cream, mix well
-Allow the sauce to come to the boil and add the leeks, spring onions, cherry tomatoes and samphire,
reduce the heat and gently poach the fish in the sauce until just starting to flake apart, add the
mustard, mussels and freshly chopped chives and dill, stir and allow the mustard to thicken the
sauce.
-Taste for seasoning if required and serve in your desired bowl then enjoy with a slab of Guinness
wheaten bread and some leftover white wine.
Seafood Chowder is available on our A la Carte & Al Fresco Menus. See the menus here. Dine daily from 12pm